CLICK PLAY ABOVE FOR VIRTUAL BRIG FOOD, SMILES & FUN!

ARE YOU HUNGRY?

THEN COME DOWN TO THE BRIG FOR SOME GREAT HOME COOKING...

Whether you have a small band of pirates or a large group of 10 or more, you'll be sure to find fixin's for everyone's appetite here at the Brig. Proprietors Kevin & Linda Diganci and their friendly staff (many who have been with The Brig for over 10 years) will make everyone in your party feel welcome and right at home.

THE BRIG is open for breakfast, lunch and dinner every day of the year, why don't you stop in today for a great home cooked meal or a tasty bowl of clam chowder or just for a cup of coffee and some yummy dessert.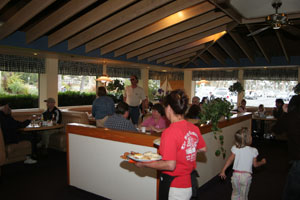 REVIEWS OF THE BRIG RESTAURANT:
5 STAR FOOD!
"We came to Dana Point from the UK to go out and see the whales. Whilst at Dana Point we went to the Brig 3 nights running for our evening meal. It is funny that on a cold March (2008) evening, I can see a place where I have happy memories of which is the other side of the world. Food was 5 star!"
Jeremy, Huddersield, England.
Brig is Dana Points Residents Secret
"The Brig has the ambiance of the old style coffee shops with the added delight of great food. The breakfast and lunch menu and cooking is superb. The biscuits and gravy for breakfast is delicious and the fish and chips are the best in town. Friendly good service and real value for the dollar. Most people dont know what a find this restaurant is, so don't tell. "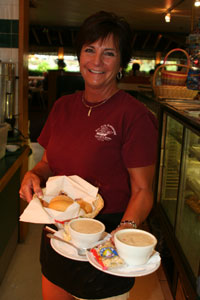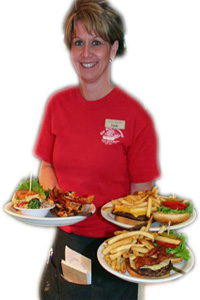 Dana Point Gem
"When we think coffee shop, we think the Brig. Forget all the chains. Everything is made right on the premises. And lots of choices. The prime rib is the sleeper; you can go to a lot of places and pay a lot more and not get better. In fact, we are heading to the Brig right now!"

The Brig has that comfortable coffee shop feeling and menus list everything from breakfast specials to prime rib dinners... all at a reasonable family friendly prices. And the service is amazing! Most of The Brig servers, cooks and hosts have worked at The Brig for many, many years and the repeat customers makes The Brig Dana Point's central meeting place for regulars and new friends alike.

The Brig is located in the Dana Point Harbor and is within walking distance of several local hotels, such as:
Marina Inn
Marriott Laguna Cliffs Resort of Dana Point
Holiday Inn Express Hotel & Suites of Dana Point
Don Carlos Inn
We look forward to seating you at your favorite table today.

The Brig Restaurant is an ADA Compliant restaurant and gladly provides extra services as needed to accomodate those with disabilities.